For those who don't appreciate fashion, luxury items are just overpriced items that are not worth their value. However, for people like me, who love fashion, these items make us dream about owning them, saving every penny to be able to afford something from one of these brands.
From a theoretical perspective, luxury goods are defined as non-essential, high-quality, rare, or not widely accessible goods. From an economic one, luxury items seem to have a positive elasticity of demand, meaning that, as the agent income rises, luxury goods demand increases, and the opposite happens to inferior goods.
Moreover, prices of luxury items show an upward trend, even in periods of economic crisis. For example, Chanel Medium Classic Flap bag has increased from $1,150 in 1990 to $7,800 in July 2021, which means that for many luxury lovers, luxury items seem to be a profitable investment with a positive return.
However, from a marketing point of view, luxury brands' marketing is different from the marketing strategies used for mass brands, where the focus is to attract the highest number of potential costumers possible. This strategy focuses on high sales volumes at lower price points, using a multi-channel approach to gain the maximum exposure for the product possible.  Therefore, luxury marketing is different, both in its objective and in terms of strategies used.
The main purpose of luxury brands is to make their costumers dream about the product, make them feel that they are exclusive, and that the product is special. As well as, of course, creating the highest brand value possible and establishing pricing power, by focusing on exclusivity and selectivity.
Furthermore, contrarily to most brands, luxury brands don't chase the costumers to buy their products, as in most cases it is the costumer that must chase the brand to be able to buy their product. The clearest example is Hermès, as in order for you to buy a Birkin bag, you will most likely have to stay on a waiting list for some years and create a relationship with one of the sales managers. Although, there are certain items that you can only buy if you are a regular buyer and Hermès has a strict quota, for the models Birkin, Kelly, and Constance, restricting buyers to no more than two luxury bags per year.
Additionally, a common marketing goal is to become a trend or to be known by almost everyone, but when focusing on luxury brands, this is more difficult than it looks, since although these brands want to become desirable, at the same time they want to be selective in their clients and don't want to be available to everyone. Thus, their advertisement is usually simple but artistic, fast track and with a unique selling proposition, focusing essentially on details and in the quality of the product, having a not very extravagant but effective presence online and even on television.
Another important characteristic of luxury marketing is that it is personal, meaning that it has always thrived in face-to-face environments. It's about dedicated time, service, and personalization to its clients. All of this is followed by acquisition, use and an attentive after-sales service. Therefore, luxury brands want to create in-person experiences, given that this also adds the exclusivity that these brands want to pass to its clients. In this type of business, the personal interaction is the best and most authentic type of advertisement, which also contributes to the brand loyalty among its clients.
The marketing mix for these brands is characterized by:
Product: usually luxury brands are established players in the fashion market, selling excellent quality goods, made with the finest materials and by talented and sophisticated craftsmanship using complex and traditional methods, which provides elegant and unique looking products.
Price: the price of these items tends to be very high, mainly due the high-quality raw materials and quality of craftsmanship needed to manufacture, and, also, due to the heritage and superiority of the brand. The price reflects the detailed production.
Placement: Luxury brands usually have physical stores, mainly located in privilege areas, and are already present online, but in most cases, their products need to be pre-ordered or must be sold through an appointment at the store.
Promotion: These products don't have a very notorious and persistent presence in the common advertisement channels, since they often believe that the products speak by themselves. However, when promoted, the advertisement is usually simple and emblematic and dreamlike, leveraging multiple brand elements, such as heritage, craftsmanship, scarcity, and selectivity of the clients, contributing to the sense of the product's superiority. 
In conclusion, the marketing strategies used for luxury brands are in several ways different from the ones used by mass brands, essentially because it is more focused on personalization and creating a unique and attentive experience for their customers.
Beyond that, these brands pass an idea that luxury is simple and detailed, however, it is also selective and exclusive.As Coco Chanel once said, "The best things in life are free. The second best things are very very expensive.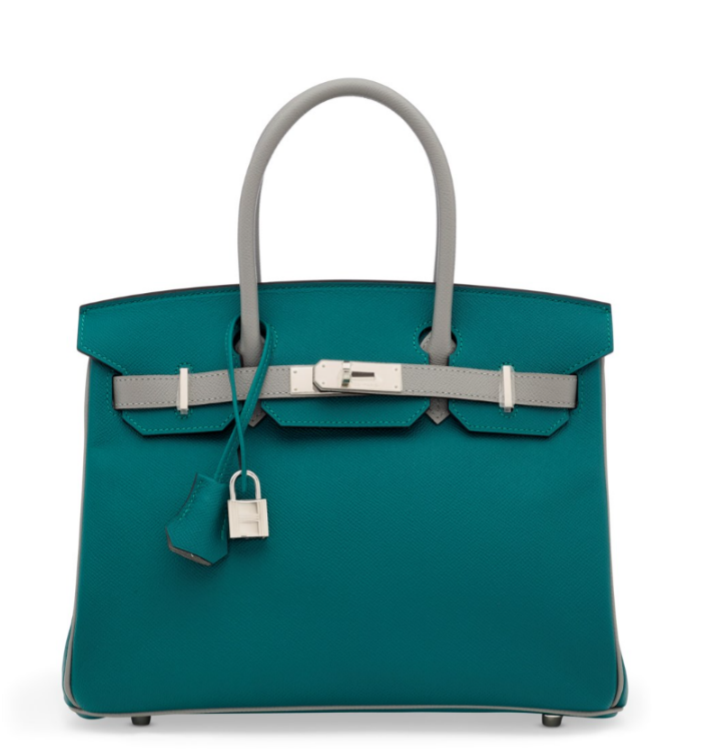 Product:
Hermes is an established player in the fashion industry ​which has a wide range of products and accessories.
Its main portfolio consists of Leather goods, accessories, silk and textiles, perfumes and watches.
Hermes relies on its heritage, quality, and craftsmanship to maintain the trust of its consumers.
Focusing on their most iconic product, the Birkin bag, it takes a single expert craftsman up to 40 hours to develop it and it costs around $800 to produce it.
Price:
The realised price for this bag 22 680€ (approximately $24 235), which according to the brand it reflects the high production costs.
Placement:
Hermes has more than 300 retail stores in the world, and it is already present online, however, the most iconic items ate usually not available in these channels. A Birkin bag, like the one in the picture, need to be pre-order and the costumer must wait for a considerable period of time.
Promotion:
When it comes to their advertising, they use a combination of traditional and digital mediums, creating simple but inspirational campaigns.
Some examples of other type of campaigns are the pop-up stores, that have the main objective of creating brand awareness, the sponsorships and also the documentaries, to obtain more visibility and share its story.
Atti, M. (2022, May 9). The Luxury Marketing Conundrum: From Aspirational To Inspirational. Forbes. https://www.forbes.com/sites/forbescommunicationscouncil/2022/05/09/the-luxury-marketing-conundrum-from-aspirational-to-inspirational/?sh=45c4b9c25ddf
Christies. (n.d.). A CUSTOM MALACHITE & GRIS MOUETTE EPSOM LEATHER BIRKIN 30 WITH PALLADIUM HARDWARE. Christies.com. https://onlineonly.christies.com/s/inside-orange-box-lifetime-collecting-property-important-european/custom-malachite-gris-mouette-epsom-leather-birkin-30-palladium-156/155267?lid=1&sc_lang=en
Gawande, R. (2021, January 22). Luxury Marketing and Luxury Marketing Strategies – Super Heuristics. Super Heuristics. https://www.superheuristics.com/luxury-marketing-and-luxury-marketing-strategies/
Kagan, E. (2023). The Luxury Price Boom: Why You Should Invest in Chanel Handbags Today | Handbags and Accessories | Sotheby's. Sothebys.com. https://www.sothebys.com/en/articles/the-luxury-price-boom-why-you-should-invest-in-chanel-handbags-today
Luxury Marketing – MIchael Solomon – Consumer Behavior & Marketing Expert. (2022, December 30). The Science Behind What We Buy. https://www.michaelsolomon.com/fashion-psychology/luxury-brand-marketing/
Shapiro_Admin. (2020). Mass Marketing: Theory and Strategies. Shapiro Negotiations. https://www.shapironegotiations.com/market-segmentation-vs-mass-marketing/
Shastri, A. (2022, October 21). Intensive Case Study on Marketing Strategy of Hermes – 2023 Update | IIDE. IIDE. https://iide.co/case-studies/marketing-strategy-of-hermes/#Place_and_Distribution_Strategy_of_Hermes